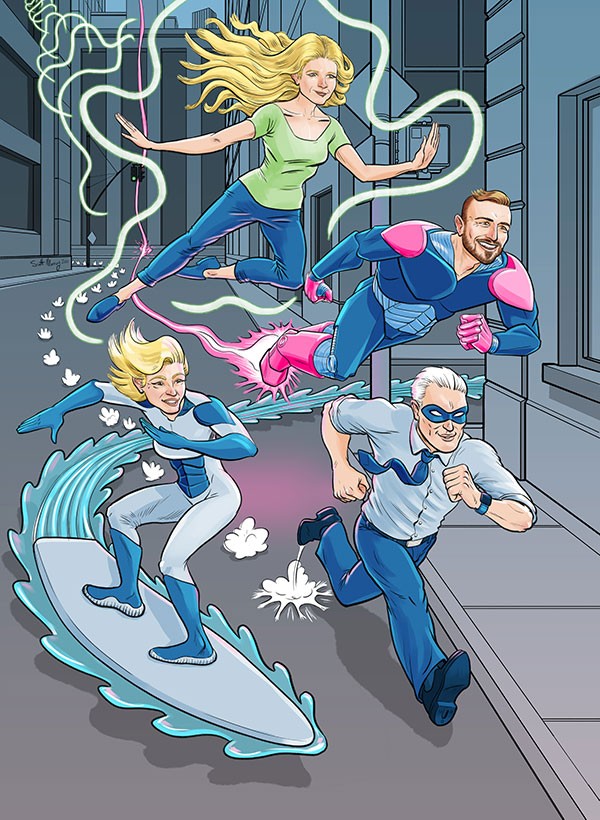 Jennifer Garner,
Co-Founder of Once Upon A Farm, Ambassador and Board Member of Save the Children, actress
"As a true believer in the unique superpowers of children, I was thrilled by this exploration of ways we can reclaim and harness those same powers as adults and leaders who want to be and do good in the world. The authors don't pretend that qualities such as Authenticity, Resilience, and Compassion come easily to grown-ups, but they thoughtfully illustrate that each and every one of us has access to the power we carry."
Genevieve Piturro,
Founder of Pajama Program and author of Purpose, Passion, and Pajamas.
"What's happened to those innate gifts of childhood that were sure to bring us joy and success as adults? The authors identify five 'superpowers' we've lost along the way and cleverly reveal how they've been wiped out. Curiosity, Authenticity, Resilience, Compassion, and Playfulness all still need a place in our adult lives in order for us to thrive. And it's not too late—thankfully, there are some ideas here on how we can reintroduce them into our lives and recapture some of the happiness that's escaped us."
Mark C,
Crowley, author of Lead from the Heart: Transformational Leadership for the 21st Century
"For years, my work has been centered on the unsung hero of great leadership: the heart. Tapping into our humanity, and reaching toward the humanity of others, is what makes great things possible. That's why I so greatly appreciate The Five Lost Superpowers. John, Andrew, Corena, and Lynae make a compelling case that the human powers of Curiosity, Authenticity, Compassion, Resilience, and Playfulness all deserve to be greatly elevated in workplace leadership. And reclaiming these powers for yourself is a way to supercharge the leader in you."
Tommy Breedlove,
Wall Street Journal and USA Today bestselling author of Legendary.
"In his inspiring book, The Five Lost Superpowers, John and his fellow authors at JMReid Group teach us about the positive traits we possessed as children that are often misplaced as adults. This powerful playbook provides a deep understanding of these superpowers and how to find them again in yourself while leading others."
David Gau,
Partner and Head of Operations at Pritzker Private Capital
"JMReid Group authors tap into an interesting premise that as we 'develop into adulthood,' we actually forsake the very powerful skills that naturally lie within us all as children. The power of Curiosity is especially relevant. I see a strong correlation in the best leaders I know and their undying and lifelong curiosity. The trait imbues their leadership style with a sense of the possible, tempers the arrogance that often comes with intellect, and drives a narrative of aspiration that inspires organizations."
Twanya Hood Hill,
Head of People and Culture at Tech Soft 3D, Inc.
"This refreshing and engaging narrative breaks the mold from the typical "tried and true" leadership models. What distinguishes JMReid Group from the rest is the practical ideas and tips brought to life in The Five Lost Superpowers. This brilliant perspective on how to recognize and develop these behaviors reignites the fire to meet today's leadership challenges head on. The time is now for this important and innovative read!"
Riaz Shah,
Global Learning Leader at EY
"I thoroughly enjoyed reading John's book. It's full of great stories and relevant advice that anyone can put into practice straight away. Having worked with the JMReid Group, I can assure you that they embrace and live these superpowers."
Cathie Levine
A must-read, chock-full of useful tools!

This is a must-read for any leader or aspiring-leader seeking to having a positive impact. The Five Lost Superpowers will help you reconnect with the innate strengths we are all born with – the ones that allow us to continue to grow, flourish and help bring out the best in others. The tools are easy to use and very accessible. Reading this book is time well-spent!
Karl Augenstein
Great concepts, supported by research

John Reid, Andrew Reid, Corena Chase, and Lynae Steinhagen describe 5 superpowers that all of us can wield. They tell stories, use examples, package each concept in easy to remember toolkits, and also provide scientific support for those of us who approach these topics with skepticism. Over the past year and a half I've lost some of my curiosity and playfulness. This book reminds me why it's important to keep cultivating both, especially through the hard times. Whether you're a "leader" in the traditional sense or not, the principles described will help you connect better with co-workers, friends, and family.
Bronwen O'Keefe
Harnessing the power within is a complex idea, made simple in this book.

As a producer for kid's content, I have learned to celebrate the innate super powers that children are born with. Compassion and curiosity as two key aspects of childhood that become all the more important, and often times, harder to access as we become adults. This book surprised me with practical exercises and tips to tap into those super powers to live a life of purpose. I find myself thinking, and acting differently…the book a constant companion in my head.
Gabrielle Saxon
Reflective Reminders

With so much emphasis on education, training and experience – it's easy to glaze over the tools that were intrinsic to us as kids. An insightful and essential guidebook on how to foster these principles and apply theory to practice without relying heavily on external resources. Instead, the authors propose tapping into our inherent, and perhaps neglected, aptitudes.
morgensternjc
Ready to be a superhero!

This book is a ready-made tool to help you access into your innate superpowers and live a life of purpose! I was impressed with the practical examples, tips, tricks to unlock my potential in my work and personal life. A great read by John, Lynae and the team!
Jane R Wykes
A Powerful and Inspirational Read

This book can benefit adults from all walks of life, not just those in business. I'm a retired educator, mother, and grandmother who can relate to all five superpowers. Read this book and you will be inspired to become your personal best in all facets of life.
creelman2229
Concise, Compelling and Practical

A fascinating, well-researched and digestible insight into five "lost" superpowers (curiosity, resilience, authenticity, compassion and playfulness) and how we can re-channel them to engage people emotionally and intellectually. I enjoyed the different perspectives of each author, woven together in a relatable format and "sticky" practical applications.
Amazon Customer
Not just for "leaders"

A friend recommended this to me. I wasn't sure how applicable it would be, as my career is not a typical "leadership"-focused career. I'm not a CEO or a manager of a team – I deal one-on-one with clients. Nevertheless, I was surprised. The book's principles have enhanced my ability to understand and communicate with my clients in a more meaningful way.
Amazon Customer
Five things we forgot we knew

Whether you are tending a home and children, or a member of a team in an office, it seems to me that this book's offering of five superpowers which we often see children wear on their sleeves, can be reinvested in by we adults towards the ever nourishing end goal of more vivid, effective, and fulfilling contributions to our daily tasks. The Five Lost Superpowers had me taking breaks in my reading to consider behaviors of myself and others I encounter on a daily basis. It was a useful handbook for assessing possible hows and whys of stuck places in my relationships, and it offers some practical solutions towards getting those areas freely moving again.
The first step to better leadership, sales, culture and more.